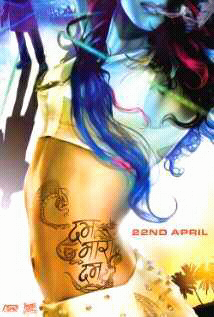 Watched Dum Maro Dum today morning...
Only 1 thing I like to say, Good job Rohan Sippy.
This one is the nextGen for Indian Cinema.
We need to have quality movie like this...
Nice story with strong base, best casting as specially new ones.
Rana(DJ Joki) looks like up coming quality actor.
Bips, nice role, tht suit you.
Same with Jr. AB. keep selecting role like this. No can beat you in this kinda role.
Some forcefully added scence as well as songs to just actract people, I really didnt like.
When you are having quality you dont need to follow current trend, as you are initiating one.
Hoping for some more good movies from Bollywod.
This week Hangover II is coming...
Waiting for it...
Its 12:45 EST I Need to sleep as I dont want be late tomorrow for Job.
Have great time and have a great reading.